I hope you're enjoying the change of seasons!
My husband brought home several butternut squash he grew from from his community garden. He set them on the counter thinking I would know exactly what to do with them all!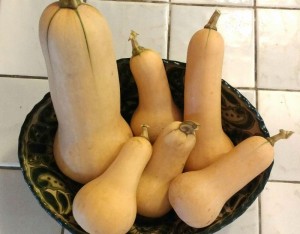 After some research and experimenting, I have three delicious recipes I would like to share with you. 
1. Butternut Squash Quinoa Boats with Cranberries and Pumpkin Seeds: 
Ingredients and instructions for 2 servings:
1 Medium butternut squash cut lengthwise
Scoop out the seeds
Coat the sides of the squash with olive oil and sprinkle with cinnamon.
Put 1 tsp Maple syrup where the seeds use to be. 
Bake at 350 for 45 minutes
Use a rice cooker for the quinoa:
1 rice cooker cup of quinoa and 2 1/2 rice cooker cups water (water measurement may vary depending on rice cooker).
Add a handful of pumpkin seeds and cranberries. 
When quinoa is done, add it to the squash and serve!
2. Autumn Harvest Squash and Apple Burger from One Green Planet, which is a WONDERFUL site for daily vegan recipes: click here for recipe.  This delicious veggie burger uses granny smith apples.
3. Butternut Mac and Cheese from Veggie Inspired Journey-no baking required! Click here for recipe
Thank you for saving animals with your food choices!
Love and health to you,
Kathleen