Costa Rica Yoga & Surf Retreat March 18-25th, 2023! SOLD OUT.
We are taking reservations for next year, March 16th-23rd, 2024.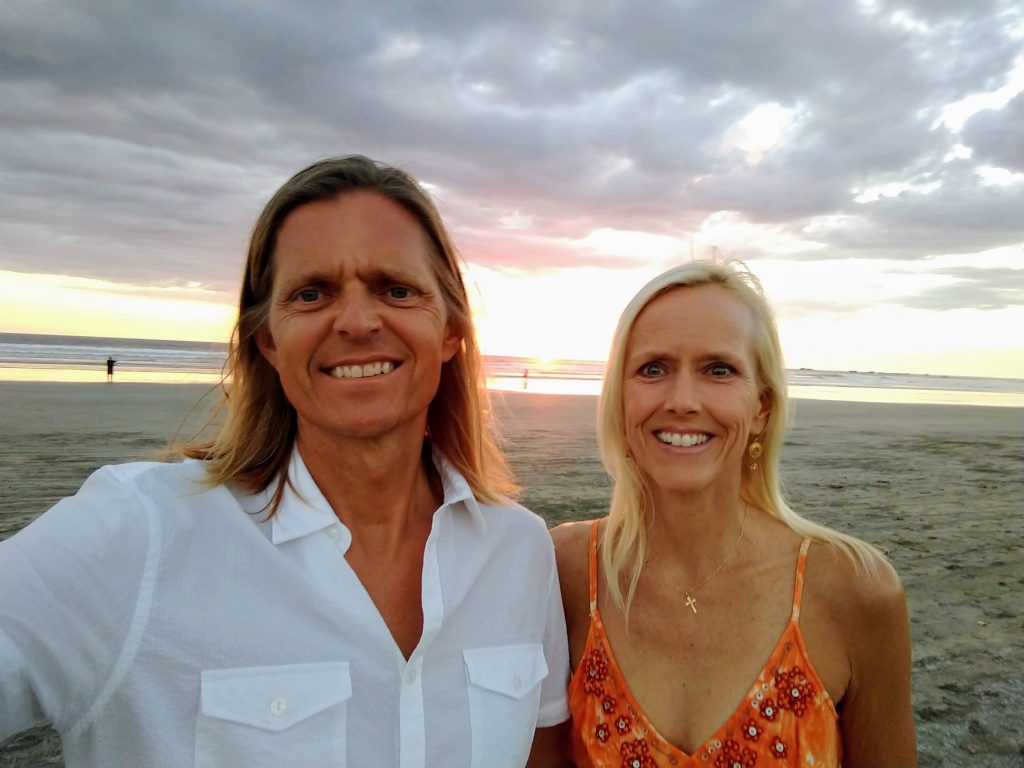 Join us at the beautiful Bodhi Tree Yoga Resort in Nosara, Costa Rica for a week of Ashtanga Yoga, meditation and surfing.
The Bodhi Tree as a 5-star hotel. https://bodhitreeyogaresort.com 
Ashtanga  Yoga & Surf Retreat is a vacation where you can immerse yourself in the beauty of nature, while deepening your yoga and meditation practice and surfing skills.
You will begin each day with morning meditation and Ashtanga practice (lead Intro and Mysore style) classes. All levels are welcome. Kathleen and Wade will give you individualized attention and hands on adjustments.
Your days will be free to take surf lessons with Wade, visit the on-site spa, relax, swim in the ocean or the resort pools, or walk the beach.
There are also local excursions, such as kayaking, paddle boarding, zip lining, the Nosara Wildlife Refuge, ATV Tour of Coffee Plantation and horse back riding.
 What's included:
Luxury Accommodations at the Bodhi Tree Resort for 7 nights
Morning meditation and yoga classes
Surf lessons with Wade  Sun, Tues, Thurs (optional)
3 Healthy, Delicious, Organic Meals Prepared Daily with Veg and Vegan options
Water, Coffee, Tea, Juice
25 Meter Salt-water Infinity Pool
State of the Art Gymnasium
Bicycles
Jungle/Waterfall Hiking
Walking Path to White Sand Beaches
Also Available on Site:
Full Bar & Juice Bar
Deluxe Spa Services
Spin Studio
Yin Yoga, Arial Yoga and other Bodhi Classes (extra charge)
Boutique Shopping
What's not included
Airfare & travel insurance
Excursions and spa services
Alcoholic beverages
Gratuities for Bodhi Tree staff
Airport shuttle from Liberia Airport to the resort (2 hour drive; $40 per person, plus tax for a group shuttle rate: $150 for solo or two people.
​Why Costa Rica? 
Take a trip to this breathtaking country and its incredible beaches, and you may never want to leave. Nosara is located on the Pacific coast in the Nicoya Peninsula of Costa Rica. Its pristine beaches are protected from development, and hundreds of acres of protected forest surround this small but special town. World class surf abounds. The waves are consistent, and the water is warm and safe for swimming. Bodhi Tree is a consciously green resort, designed around nature to leave the jungle exactly as it was meant to be. Meet peace in paradise, Pura Vida!
Rates & Accommodation for March 2023: 
King Bungalow : Single: $3115 for one person, plus tax; Two people $2150, plus tax: Sold Out
King Villa Single $3250, plus tax, Double $2175 each, plus tax.-  Sold Out
Queen Tree Top Single: One person $2350, plus tax – Sold Out
Bungalow Double room (2 queen beds): $2150 each, plus tax. Sold Out
Queen Jungle Room Double (2 queen beds):  $2050 each, plus tax. Sold Out 
 There's $500 non-refundable deposit to reserve your spot. Please email:  kathleen@kathleenkastner.com .
All Payments are non-refundable and due by Dec 15th, 2022.Payments are made to Kathleen directly via Venmo @KathleenKastner. 
Bodhi Tree Yoga Resort: https://bodhitreeyogaresort.com/
"Kathleen and Wade made this retreat a great experience.  They introduced new things to me and delved into the 8 limbs of the Ashtanga practice.   I highly recommend this to someone who wants to truly enjoy time "living in the moment" because that is what it felt like!" Bianca Ware, Long Beach, CA