My first children's book, Karma Cats to the Rescue, is now available!
I wrote the book to honor the memory of my soul mate cats, Julian and Oliver, and my current rescue cat, Noah.
What will happen when an abandoned cat who wants to be free is rescued again and again?
The Karma Cats find Noah abandoned and alone, but he doesn't want their help or friendship.
Will Noah accept their friendship and allow them to help him find his forever home?
Find out in this heartwarming story about two superhero cats who refuse to give up on a new friend.
Karma Cats to the Rescue book trailer:
Yoga's Path to Weight Loss: A Mind Body Spirit Guide to Loving Yourself Lean is a holistic approach to weight loss.  Price: $9.99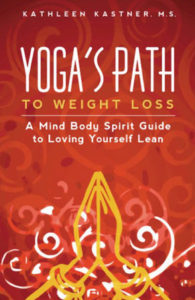 "This is a beautiful life-affirming reminder that it all begins and ends with love- self, the Divine and to all the creatures on the planet! You feel her love and passion for yoga throughout the pages and it motivated me to get on the mat and let go of the struggle. Also practical tips to a smooth transition to a plant-based diet, for the betterment of all." -Amazon Review by Frangelica Fellini
My first book, The Cheerleader Speaks: What God Taught Me About Men and Myself:
The Cheerleader Speaks Paperback $9.99
 Review: "Life is isn't as high school reveals, and many of the lessons come afterwards. "The Cheerleader Speaks: What God Taught Me About Men and Myself" is a memoir from Kathleen Kastner who shares her experiences as she goes from cheerleader to real woman, and the gauntlet of everything in between. Strongly drawing on her faith in the process, she writes with much inspiration and humor, sure to help many a curious reader. "The Cheerleader Speaks" is a strong pick for memoir and inspirational collections, recommended."
-Willis M. Buhle
Mid-West Book Reviewer