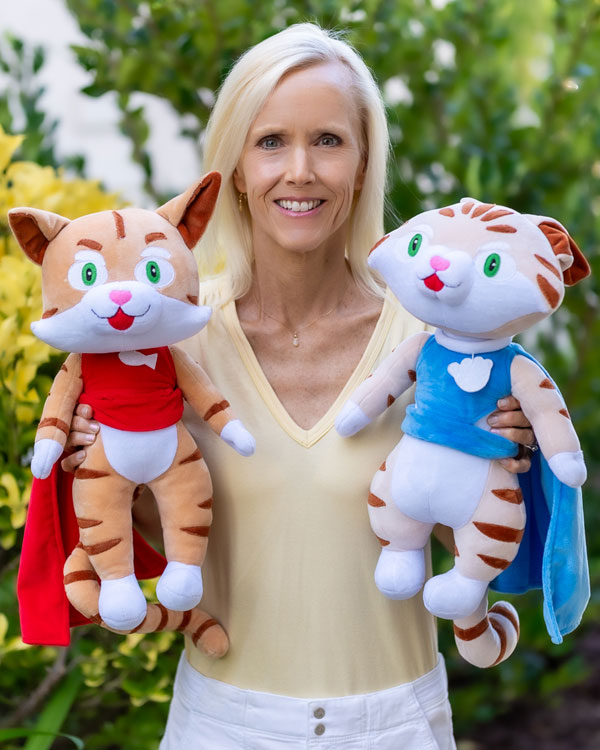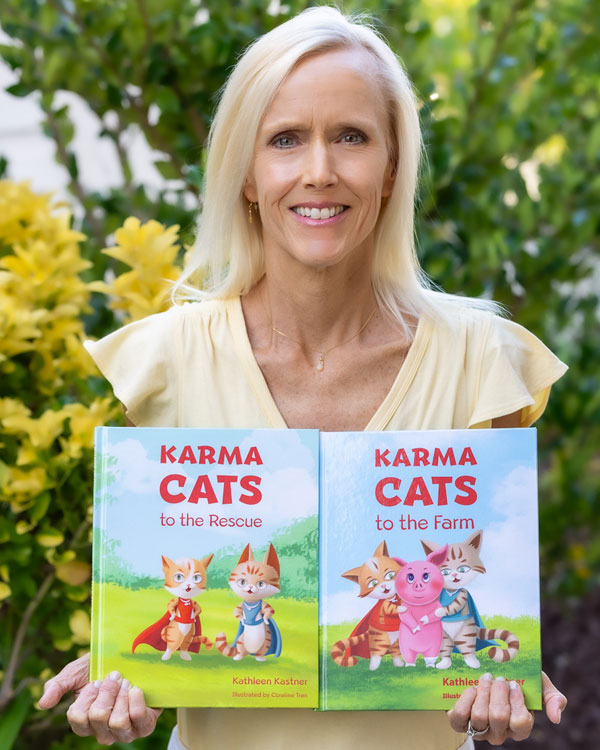 Kathleen Kastner is the creator of the Karma Cats franchise and is the author of the children's book series, Karma Cats to the Rescue and Karma Cats to the Farm. Her books mirror her lifelong commitment to saving animals and inspire kids to be kind and compassionate to all animals.
Kathleen has a B.S. in Journalism and a M.S. in Education from the University of Kansas and has been teaching yoga since 1997.
She was introduced to yoga and the law of karma, the law of cause and effect, when she worked for Dr. Deepak Chopra as his personal trainer in 1993. She lives in Encinitas, CA with her husband and three rescue cats, and is a cat volunteer at Rancho Coastal Humane Society. Kathleen has been vegan since 2002, and hosts a vegan cooking channel on Youtube.
Press Releases:
Karma Cat to the Farm Book Launch: Nov. 20th, 2023:
Karma Cats to the Farm Media Advisory: Nov. 20th, 2023
Karma Cats to the Farm Q & A: Nov. 20th, 2023:
TV Interviews:
Kansas City Live: The Cheerleader Speaks, Feb 14th, 2013:
Article Interviews:
Del Mar Times: Local Author, Animal Advocate Releases New Children's Book, Nov. 26th, 2023: https://bit.ly/3uFbQHI
Encinitas Advocate: Cats Inspire Woman to Write Children's Book, Dec 3oth, 2022:
https://bit.ly/3Gj4exb
San Diego Voyager: Rising Stars Meet Kathleen Kastner, Jan 2, 2023:
https://bit.ly/San_Diego_Voyager
Podcast Interviews:
Canvas Rebel: Fostering and Developing Kindness and Compassion in the Next Generation of Leaders, Sept 11th, 2023:
https://bit.ly/Canvas_Rebel
The Victoria Moran Podcast: Animals, Kids & Yoga For Grown Ups, March 2nd, 2023:
https://bit.ly/The_Victoria_Moran_Podcast
Finding Harmony Podcast: Vegan Vitality, April 3rd, 2022:
https://bit.ly/3s5ZAiO
Soul Quest Podcast: Episode # 31, April 19th, 2021:
https://bit.ly/3MiGOLM
Patricia Kathleen Podcast: Investigating Vegan Life, June 21st, 2020:
Yoga of Kindness Podcast: Animal Advocate & Vegan Coach, June 10th, 2020:
Yoga is Vegan Podcast: Episode 12, July 23rd, 2019:
Yogi Triathlete Podcast: Living a Hail Mary Life,  June 12th, 2017:
Color Sheet & Carrot Cake Recipe!
Subscribe here