Summer is a great time to eat an array of fresh fruits, like peaches, which are high in Vitamins A, C, potassium and fiber. 
My husband, Wade, brought home this box of peaches from Costco and I immediately started brainstorming on how to use them up. 
My 15 year old cat, Julian, was also excited so he could use the box as his new bed! He is my best friend and the light of my life!
I found this EASY PEACH CRISP from The Minimalist Baker and fell in love with it! click here for recipe
It is made with gluten-free oats, almond flour, brown sugar, pecans and coconut oil.
I topped it with Soy Delicious Vanilla Ice Cream.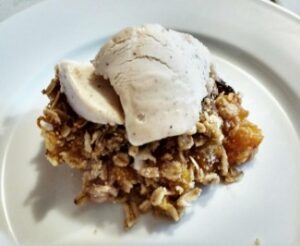 Here's a cooking demo of the recipe:
Enjoy and happy summer to you!
Love Kathleen