Welcome to my site!
I'm a Writer and Yoga Teacher and live in Encinitas, CA with my husband, Wade, and three rescue cats: Noah, Alijah Blue and Olivia Sue.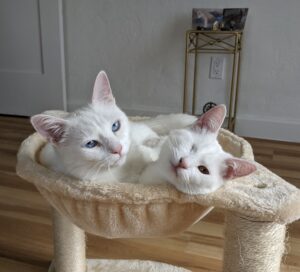 I have a Master's Degree in Exercise Physiology and a Bachelor's Degree in Journalism from the University of Kansas. I've worked in the wellness field for 30 years and have been teaching Ashtanga Yoga since 1997. I lead a yoga, meditation and surf retreat yearly in Costa Rica, with my husband.
My first children's book, Karma Cats to the Rescue, will be released this Fall.
My other books,
Yoga's Path to Weight Loss: A Mind Body Spirit Guide to Loving
Yourself Lean
and
The Cheerleader Speaks: What God Taught Me About Men
and Myself
are available on my Store page or Amazon.com.
I host a Vegan Cooking Show on YouTube, called,
Vegan Vitality
:
Click here
.
Let me know how I can support you.
Thank you for dropping by!
May all all beings be happy and free of suffering.
Much love,
XO Kathleen
Subscribe for updates and recipes