Welcome to my site!
I'm a Yoga Teacher and Vegan Cooking Instructor. I have a Master's Degree in Exercise Physiology and have been working in the Wellness field for 30 years. I live in Encinitas, CA with my husband, Wade, and three rescue cats: Noah, Alijah and Olivia.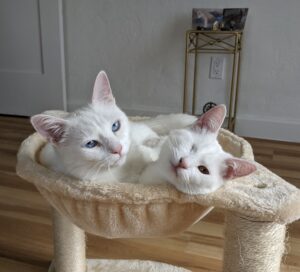 I've been vegan since 2002 and love sharing the benefits of a whole foods plant-based diet to help people improve their health, lose weight and to save animals and the planet.
My books,
Yoga's Path to Weight Loss: A Mind Body Spirit Guide to Loving
Yourself Lean
and
The Cheerleader Speaks: What God Taught Me About Men
and Myself
are available on my Store page or Amazon.com
Let me know how I can support you.
Thank you for dropping by!
Much love,
XO Kathleen
Subscribe for updates and recipes