Welcome to my site!
I'm a Yoga Teacher and Vegan Cooking Instructor, and live in Encinitas, CA with my husband, Wade, and three rescue cats: Noah, Alijah and Olivia. I'm a step-mom to Kaden and Kaiah, who live in Las Vegas.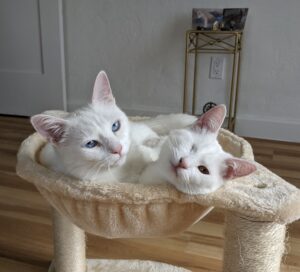 I have a Master's Degree in Exercise Physiology and a Bachelor's Degree in Journalism from the University of Kansas. I've worked in the wellness field for 30 years and teach an annual yoga retreat in Costa Rica.
I host a Vegan Cooking Show on YouTube, called,
Vegan Vitality
:
Click here
.
I'm currently working on my first children's book, which will be released this Fall.
My other books,
Yoga's Path to Weight Loss: A Mind Body Spirit Guide to Loving
Yourself Lean
and
The Cheerleader Speaks: What God Taught Me About Men
and Myself
are available on my Store page or Amazon.com
Let me know how I can support you.
Thank you for dropping by!
May all all beings be happy and free of suffering.
Much love,
XO Kathleen
Subscribe for updates and recipes