Happy Holidays!
I would like to share this delicious vegan holiday meal plan that my husband Wade and I made for Thanksgiving. 
We will be repeating it again for future holidays. It was a big hit with my step-kids and mother-in-law, so it's good for all ages!
It helps to prepare the lentil loaf the day before. Keep it in the fridge covered with foil until it's time to bake it. 
Clockwise from the top:
– Baked Sweet Potatoes with Brown Sugar & Cinnamon 
–Glazed Lentil Walnut Apple Loaf from Oh She Glows Click here
–Mashed Potatoes with Gravy (Gravy is with Tofu Recipe) 
–Holiday Herbed Tofu by Tracy Childs Click here
–Cranberry Kale Salad with Parmesan Topping from Oh She Glows Click here
Powdered Sugar Snowballs: These shortbread cookies with chopped pecans are rolled in powder sugar. They melt in your mouth. I love them too much! You can roll them in sugar twice to make them pure white.   Click here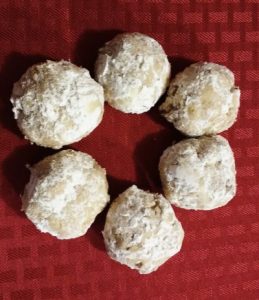 Enjoy the recipes and happy holidays!
Much love,
Kathleen