Costa Rica Ashtanga Yoga & Surf Retreat March 14-21st, 2020! SOLD OUT- WAIT LIST ONLY.
Reserve your spot for the next retreat, February 13th through 20th, 2021!
The retreat will take place at the beautiful Bodhi Retreat Yoga Resort in Nosara, Costa Rica.
Trip Advisor rates the Bodhi Tree as a 5-star hotel.
https://bodhitreeyogaresort.com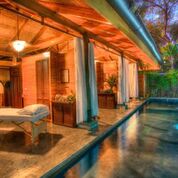 This 7 day yoga and meditation retreat offers you the opportunity to immerse your mind body and soul in the majestic jungle and ocean breezes of Costa Rica.
You will begin each day with morning meditation and Ashtanga (lead and Mysore style) practice. All levels are welcome. Kathleen and Wade will give you individualized attention and hands on adjustments.
Your days will be free to visit the on-site spa, relax, surf, swim in the ocean or the resort pools. Wade will be giving surf lessons as well! There are also local excursions, such as hiking, zip lining and touring the Nosara Wildlife Refuge.
We will enjoy 3 delicious and healthy gourmet meals prepared for us daily, with vegetarian and vegan options.
What's included:
7 Night's accommodations
3 delicious and healthy meals daily
Yoga and meditation classes
Surf lessons with Wade (optional)
Group airport transfer to and from Liberia airport to and from the Bodhi Tree Resort on Feb 9 & 16th ($40 per person, plus tax)
What's not included
Airfare & travel insurance
Optional excursions and spa services
Alcoholic beverages
Gratuities for Bodhi Tree staff
Airport shuttle from Liberia Airport to the resort (2.5 hour drive; $40 per person, plus tax for a group shuttle rate.)
Rates & Accommodation Options:
There is a wait list for the 2020 Retreat. I'm now taking reservations for the retreat on February 13th through 21st, 2021.
There's $500 non-refundable deposit to reserve your spot. Please email: kathleen@kathleenkastner.com .
All payments will be made to Kathleen directly.
Bodhi Tree Yoga Resort: https://bodhitreeyogaresort.com/
"Kathleen and Wade made this retreat a great experience. They introduced new things to me and delved into the 8 limbs of the Ashtanga practice. I highly recommend this to someone who wants to truly enjoy time "living in the moment" because that is what it felt like!" Bianca Ware, Long Beach, CA
VIP RETREAT in Encinitas, CA: 1-2 people
-Private yoga, meditation, vegan food, cooking classes, accommodations and transportation to and from the airport.
My goal is to help you feel empowered to maintain these healthy lifestyle habits when you return home.
You will be staying at a charming Air B N B in in my neighborhood: click here to see . For more than two people, I can arrange other accommodations. Everything in Encinitas is within walking distance. During your downtime you can walk to Swami's beach, Paramahansa Yogananda's temple and tranquil gardens. You can also get pampered at Lemongrass Aveda Holistic Health Spa for massages and facials click here.
Retreats can be customized for 2-3 days. I'm also available to travel to your home for VIP sessions. Self-care is a gift you give yourself!
These packages includes the following daily practices:
Morning meditation
Private morning yoga classes designed to meet your needs.
Vegan and gluten-free meals and cooking classes. (All meals included in retreat price.)
Trip to the grocery store to help you know what foods to buy to sustain a whole foods plant based diet at home. (Optional)
Free Intro to Ashtanga Video (Streaming Video)
Free Meditation Mp3s for home practice
Free copy of my book, Yoga's Path to Weight Loss: A Mind Body Spirit Guide to Loving Yourself Lean
Free 30 min follow-up session
Contact Kathleen to discuss your VIP retreat: kathleen@kathleenkastner.com
Testimonial: "I cannot say enough positive things about Kathleen and my experience with this retreat. Although I was already healthy and active, I had drifted from my Ashtanga practice and vegan eating. This retreat brought me back to my Ashtanga yoga practice and gave me more vegan outlets to help me continue on that path. But more than that, it brought me inner peace and helped me reconnect spiritually. Every morning I awoke early to walk Swami's beach alone and meditate –I found it very healing. Just breathing in the air there is magical –it smells amazing. I've never wanted to breathe so much in my life.
The B&B I stayed at was so charming and welcoming…tons of tropical plant life and plenty of privacy. It was close to Kathleen's house, so I was able to walk everywhere. Of course Kathleen is a wonderful host with tons of yummy vegan recipes and cooking tips. Even my thirteen-year-old son is enjoying the recipes!
This retreat was exactly what I needed. I came home feeling calm, centered, inspired and best of all- happy." -Jen Yeager Kansas City